SoftPlan Educational
Purchase be made directly through Cadworks, and is ONLY for Registered Educational Facilities, and requires a purchase order from same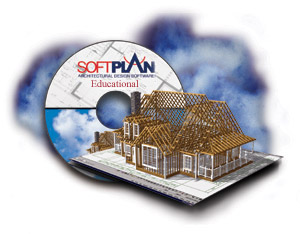 Learn, Design, Achieve
SoftPlan Educational gives students the advantage by transforming the way students learn, increasing student involvement with the design process, and improving achievement in and outside of the classroom.
Learn
The SoftPlan software is simple for students to learn. This program's object orientation eliminates the need to teach an entirely new language or x,y,z, coordinates to effectively use the software. Teachers can focus on building design and techniques instead of spending the entire semester teaching a software program.
Design
Cut down on the repetitive tasks of conventional CAD. SoftPlan software speeds the design process with timesaving and easy to use automated features. Students find drawing with objects such as walls, windows, and beams simple, and after students design their floor plans, SoftPlan software automatically creates elevations, cross sections, roof framing, wall framing, and more!
Achieve
Students that use SoftPlan software excel from the classroom to the competitive level. Using the program, working drawings and 3D renderings can be created quickly giving students a significant edge. Schools that utilize the power of SoftPlan Educational software have seen their students go on to be extremely successful in local, regional, and national design competitions. Students enter their design careers well equipped to excel at the next step in their education or professional goals.
Educational Curriculum
As part of our continued commitment to education, SoftPlan has developed a secondary level curriculum for architectural drafting. This resource is FREE to all SoftPlan Educational software users/registered schools. The curriculum contains seven units and is designed for 135-180 hours of instruction. From foundation to roof plan, Architectural Drafting covers the basics of residential design and accepted building practices.
Units outline relevant themes for each topic as part of standard educational requirements. Visuals, such as diagrams of structural components and captures of dialog boxes and library items, offer an easy visual reference to students. The curriculum also provides pre-written problem statements and assignments.
SoftPlan Educational Pricing:
Master Station Only: $575
Student Work-Station Only $100
* - Discount pricing valid for Educational Institutions only. Minimum order required.