Add-On Products - CadWorks Consulting
Call 330-678-6785 to order, or E-Mail info@cadworksinc.com.
Softalk: $395.00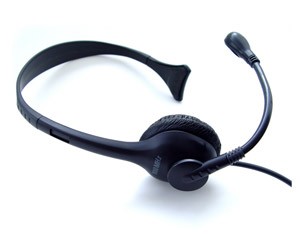 With this add-on, users of SoftPlan or SoftPlan Lite have the ability to access SoftPlan commands through cutting edge voice recognition technology. Leaving the mouse in the drawing area, all menu items can be accessed verbally. No other CAD program in the world allows you to talk your way from concept to completed drawing. SoftTalk comes fully equipped with software, a quick-start manual, and the SoftTalk Headset. You'll have complete, hands-free control of SoftPlan menu items in just minutes!
SoftTalk is not simply a voice activation of menus; it is complete voice control of SoftPlan and SoftPlan Lite.
Simply speak your way from concept to completed drawing.
SoftPlan commands become even more readily accessible because you utilize the fastest form of communication, speaking.
Customize SoftTalk with your own special drawing commands.
Technology so advanced, it cannot be obtained with any other CAD package.
---
Review: $395.00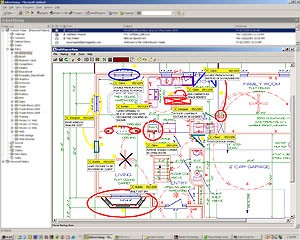 SoftPlan reView streamlines collaboration throughout the building process. reView gives instant access, anywhere, to SoftPlan drawings even by non-SoftPlan users! Through email or a pocket PC, reView allows all those involved in a building project, from the designer, builder, trade contractor, to the client to view, comment, and mark-up the drawings.
Redline & mark-up drawings
Enhance the efficiency of the revision process as SoftPlan reView allows you to redline a drawing with typical mark-up tools such as redline, cloud, dimension, and notes. Anyone, from your client to your staff, will have the ability to mark-up the drawing with comments, revisions, or redline sketches.
Exchange Drawings
Convert your SoftPlan drawing into a single reView file that can be emailed to your customers and building staff. Facilitate communication with:
Clients - Communicate design ideas to your clients through email. You won't even have to leave the office! Your customer can now have input throughout the entire building process by having the ability to view and redline a design.
Trade Contractors - All the architectural information is available in a reView file, making it valuable when dealing with trade contractors. Email a reView drawing to a trade contractor to create estimates or communicate design revisions.
Field Staff - Once construction is underway, reView is a helpful tool because all the information the field staff will ever need to know such as sizing and dimensions can be stored on their pocket PC. Punch list items can also be created directly on the drawings.
Distribute free Viewer software
Your clients and project team can use the free Viewer software as a tool to view, mark-up, and comment on the SoftPlan drawing. The Viewer software can be easily downloaded on our website. Now everyone involved in the building project can participate in reviews of SoftPlan drawings without having to purchase a viewing tool.
Control your drawings
As the designer or owner of a home plan, some control over your drawings and information may be required. So when a reView file is being created from a SoftPlan drawing, the author will be asked several questions designed to control what information is available and how it may be used. The SoftPlan user controls:
If the reView file can be printed
If printing is allowed, whether or not the print can be to scale
Whether to include any images (typically logos or renderings) that may be included on the SoftPlan drawing in the reView file
Features:
Author a reView file (.spv) from any SoftPlan file (.spd)
Use items such as shape, sketch, line, circle, and ellipse to redline a drawing
Create punch lists directly on the drawing files
Add comments to the drawing either by typing or by selecting from predefined lists
Place service symbols to indicate the location of items such as electrical outlets, phone, and TV jacks directly on the drawing
Query between any two points to calculate distance
Import mark-ups created in reView PC or reView pocket PC back into SoftPlan
Create schedules of all the notes, punch items, and service symbols added to the drawings by reView PC and reView pocket PC
Configure mark-up items and comments that are available to reView for punch list, note, and service symbol items
Print reView drawings either to scale or fit to a page provided permission has been given by the author of the reView file (reView PC only)
Export SoftPlan (.spd) files as .pdf files